Prospective Families and Students
---
---
Thank you for your interest in Hamilton Middle School. Below you will find information about our school tours and Shadow Days. Please be advised that tours are specifically geared toward incoming 6th graders. Please email our School Liasion, Ms. Suarez at dimarlys_suarez@dpsk12.net for questions.
---
School Tour Days
We offer tours during Round 1 and Round 2 of SchoolChoice. Please sign up to receive information about Hamilton Tours. We will send you an email with updates on tour dates.
---
Hamilton In-Person Tours 
We are offering tours of our campus throughout the year. Step inside our school to learn more about IB and how students become lifelong global learners.
The tour will start in the school lobby and finish in the Cafeteria with a Q&A session with current HMS parents.
Special Hamilton Tour School Choice Event
We would like to invite you to join us on Saturday, February 4th, from 10:00 – 12:00 pm to meet Principal Dillon and tour Hamilton. Husky Student Leaders will take you around the entire school, provide you with an opportunity to learn about our programs, and give you time to ask Principal Dillon all your questions. We will be providing light snacks at the tour for families.
---
5th Grade Shadow Days
Hamilton Middle School invites every feeder Elementary School for a shadow morning to bring the entire 5th-grade class to Hamilton. The tour includes getting to know your 6th-grade team, interactive stations, and time for lunch.
If your school would like to schedule a 5th-grade Shadow Day, please contact our School Liaison, Dimarlys Suarez, at Dimarlys_suarez@dpsk12.net.
---
About Hamilton Middle
Please take a moment to visit our Overview page to learn more about Hamilton's vision and our principal Mrs. Dillon.
School Events and Programs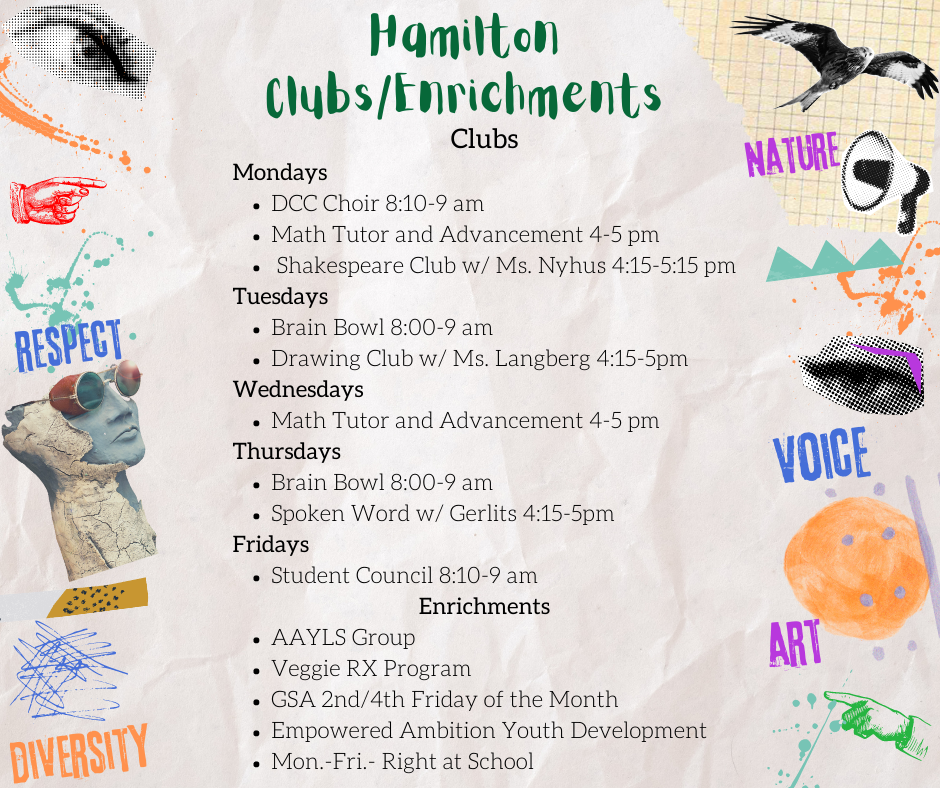 ---
What Makes Hamilton Special
Take a Tour!
Hope you enjoy this virtual tour we put together! Ms. Nyhus, our drama teacher, will guide you through the hallways as you get to know our school better.
---
Meet the Principal Virtual Town Hall
Virtual Town Hall Meeting
Did you miss the Virtual Town Hall this month? Don't worry! You can check out the google slide presentation to get information discussed in the town hall as well as send your questions to Mrs. Dillon.
Virtual Town Hall meetings will be available every month. Our next Virtual Town Hall will be on March 23rd, 5:00 pm-6:00 pm. Download February's Town Hall presentation here.
---
SchoolChoice Information
SchoolChoice
Questions? Contact the SchoolChoice Hotline at 720-423-3493, email schoolchoice@dpsk12.org, or visit schoolchoice.dpsk12.org.
SchoolChoice is for any student who wants or needs to attend a new school for the following school year, particularly "transitioning" students, typically incoming kinder, sixth, and ninth-grade students. All incoming preschool students, as well as incoming students who reside in an enrollment zone, must complete an application. For more information click here.
---
How does SchoolChoice work?
SchoolChoice Resources
The Round 1 SchoolChoice window for 2023-24 is 10 a.m. Jan. 13 through 4 p.m. Feb. 14, 2023. To participate in SchoolChoice, families submit one SchoolChoice application per student, on which they rank their top schools in order of preference, up to a limit of 12. DPS then uses a computer algorithm that matches students to schools based on those preferences, as well as school admission priorities and available space.

Here's how it works:

Find: First, to prepare for SchoolChoice, learn more about schools in which you might be interested, starting with your neighborhood school. Check out the School Finder, read the Great Schools Enrollment Guides and talk to schools you are interested in.

Apply: Create your account. (We recommend using your Parent Portal account username and password to log in, but you may also use your email address.) Then, fill out and submit the SchoolChoice application — including ranking your most-preferred schools (up to 12) — any time during the month-long Choice window, which opens Jan. 13, 2023, at 10 a.m. and ends Feb. 14, 2023, at 4 p.m.

Register: Once placement notifications are sent in late March, contact your school for registration information.
New this year: If you are submitting an ECE-4 application, you must upload the following documents in order to submit your application:

~Birth certificate
~Proof of address
~Proof of income – 30 consecutive days

SchoolChoice online applications cannot be submitted without these documents.




SchoolChoice Flier – explains SchoolChoice and offers contact information for families who need support with the process. Please click download in English and Spanish.

SchoolChoice Video – This short, animated video describes the SchoolChoice process in easy-to-understand terms. Feel free to share these links on your school website and social media channels. The video is available in English and Spanish versions.

SchoolChoice FAQ This document answers numerous common questions about DPS' unified enrollment process in English and Spanish.
---
Round 2 begins every year after families are notified of their Round 1 school placements, and ends in late August. Round 2 for the 2022-23 school year opens at 10 a.m. April 12 and ends at 4 p.m. Aug. 31.
Round 2 is the first-come, first-served segment of SchoolChoice for families who missed Round 1, took part in Round 1 but want to re-explore their options, or are new to DPS for the next school year. Round 2 applications are available following Round 1 notifications by accessing your SchoolChoice account.
---
You can always get the latest information on the right here on this website. If you need additional help or have questions, start by contacting the SchoolChoice hotline at 720-423-3493, emailing schoolchoice@dpsk12.org or contacting your child's school.
Need instructions? Click here for a step-by-step guide in multiple languages.