Future Families and Students
Welcome to Hamilton Middle School. We are an International Baccalaureate DPS middle school serving 6th, 7th, and 8th grades in Southeast Denver.
School Tours and Shadow Days
Below you will find information about our school tours and Shadow Days. Please be advised that tours are specifically geared toward incoming 6th graders.
Questions? Email the School Liasion, Ms. Suarez at dimarlys_suarez@dpsk12.net
School Tour Days
We offer tours during Round 1 and Round 2 of SchoolChoice. Please sign up to receive information about Hamilton Middle School or sign up for a tour TODAY!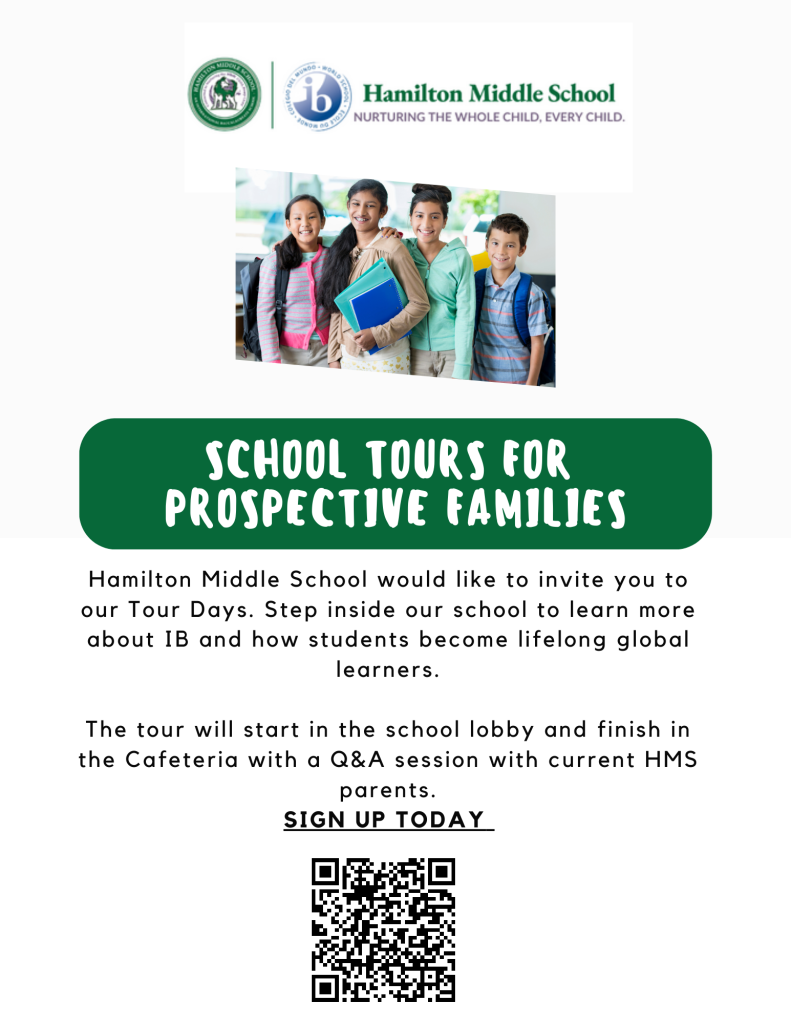 Hamilton Open House
Hamilton Open House extends a warm invitation to prospective families and future 6th graders eager to explore the enriching educational environment we offer. Join us for an engaging opportunity to learn about the school's diverse programs, meet our dedicated staff, and immerse yourself in the vibrant culture of Hamilton at our Dia de los Muertos Fiesta. It's not just an open house; it's a celebration of learning and community, where you can envision the exciting journey that awaits you and your child at Hamilton. We look forward to sharing the spirit of education and festivity with you.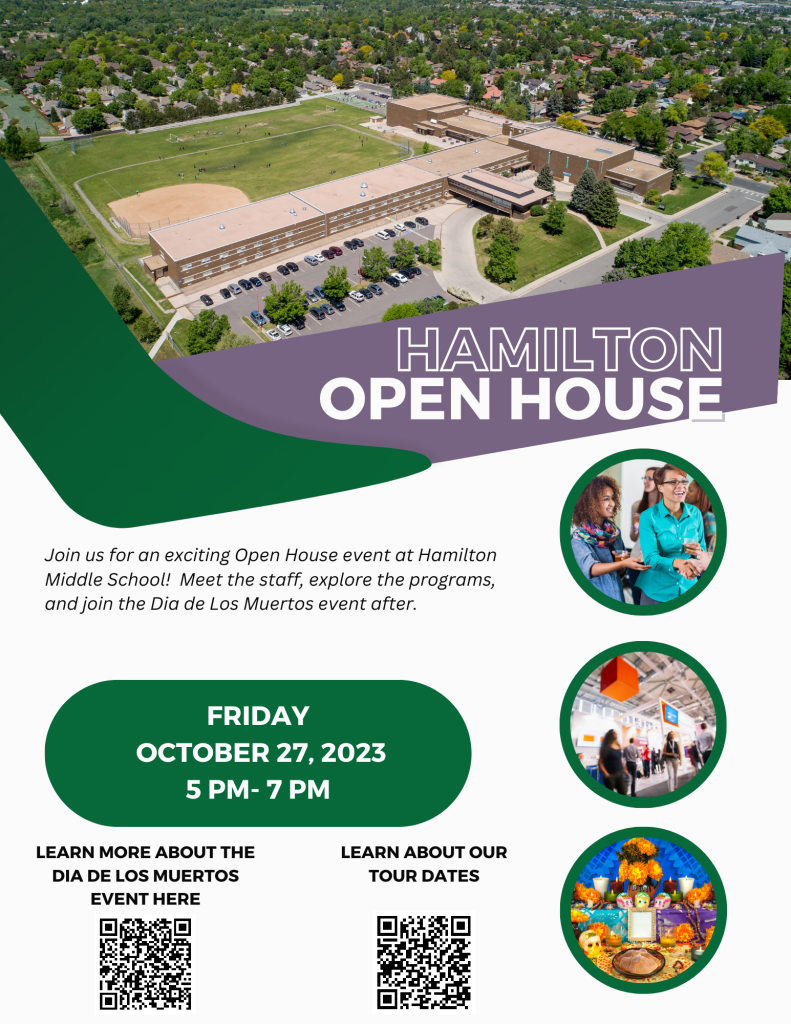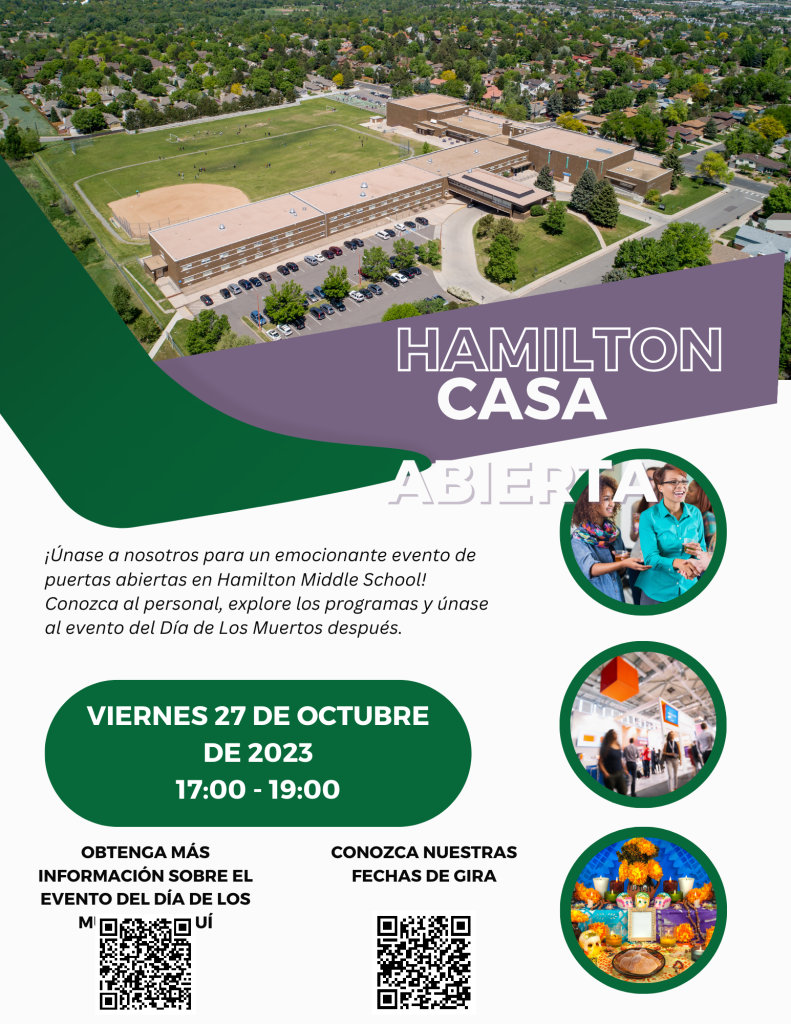 5th-Grade Shadow Days
Hamilton Middle School invites every feeder Elementary School (Southmoor, Bradley, Shoemaker, Samuels, Holm) for a shadow morning to bring the entire 5th-grade class to Hamilton. The tour includes getting to know your 6th-grade team, interactive stations, and time for lunch. This invitation is sent out the the school's 5th grade team.
If your child is not currently attending any of the feeder schools listed above, you have the option to sign up below.
IMPORTANT NOTICE: PLEASE READ CAREFULLY
This tour is exclusively designed for students who are currently not attending a feeder elementary school (Southmoor, Shoemaker, Samuels, Holm, Bradley), and Hamilton Middle School is their designated neighborhood school. Hamilton has already invited 5th-grade classes from our feeder schools to participate in our Shadow Tour Day.
ATTENTION 5TH-GRADE STUDENTS NOT ATTENDING A FEEDER SCHOOL
We extend a warm invitation to your 5th-grader for our Shadow Tour Day, scheduled on January 9th, from 9:30 a.m. to 11:15 a.m. This exclusive opportunity is specifically for students who are not attending the feeder schools listed above.
Click on the video below to watch our virtual school walkthrough.
About Hamilton Middle
Please take a moment to visit our Overview page to learn more about Hamilton's vision and our principal Mrs. Dillon.
SchoolChoice Information
School Choice Round 1 | Primera ronda de elección de escuela
SchoolChoice Round 1 for the 2024-25 school year will open on Jan. 11, 2024 and close on Feb. 12, 2024.
The DPS SchoolChoice application and waitlist site has changed.
Families can apply here. Families with existing Parent Portal accounts can log in using their username and password and families who do not have Parent Portal accounts will set up a new account. 
La Ronda 1 de SchoolChoice para el año escolar 2024-25 comenzará el 1 de enero. 11 de febrero de 2024 y cierre el 11 de febrero de 2024. 12, 2024.
El sitio de solicitud y lista de espera de SchoolChoice de DPS ha cambiado
Las familias pueden presentar su solicitud aquí. Las familias con cuentas existentes en el Portal para padres pueden iniciar sesión con su nombre de usuario y contraseña y las familias que no tienen cuentas en el Portal para padres configurarán una nueva cuenta..
Three Easy Ways to Find a Denver School
Go to School Finder

Find my neighborhood/zone schools: Type in your address and select a grade to look up your neighborhood school and see the boundary or zone for your location or
Explore schools in Denver by name: If you know the name of the school you'd like to view, type it in the box below or
Help me find a school based on interests: Using this guided search, you will provide some basic information about what you're looking for in a school and will then see a list of schools/programs that match your criteria.
News
November 17, 2023
The Week Ahead Monday, Nov. 20th-Friday, Nov. 24th Thanksgiving Break- NO SCHOOL Important Dates | Fechas Importantes Hamilton Administration News | Noticias de la Administración de Hamilton Attention Families: Vaccine Requirements |Atención Familias: Requisitos de vacunación Supporting Our Families |…Continue Reading
November 10, 2023
The Week Ahead Monday, Nov. 13th Fall Play Rehearsals 4:15-5:45 pm Flag Football Game at Merrill @ 4pm Right at School Enrichment 4:15- 6:00 pm Tuesday, Nov. 14th Brain Bowl Team Meeting 8:20 -9:00 am Right at School Enrichment 4:15-…Continue Reading
November 3, 2023
The Week Ahead Monday, Nov. 6th Fall Play Rehearsals 4:15-5:45 pm Flag Football and Volleyball Games @ 4 pm Right at School Enrichment 4:15- 6:00 pm Tuesday, Nov. 7th Brain Bowl Team Meeting 8:20 -9:00 am Right at School Enrichment…Continue Reading