Whole Child Support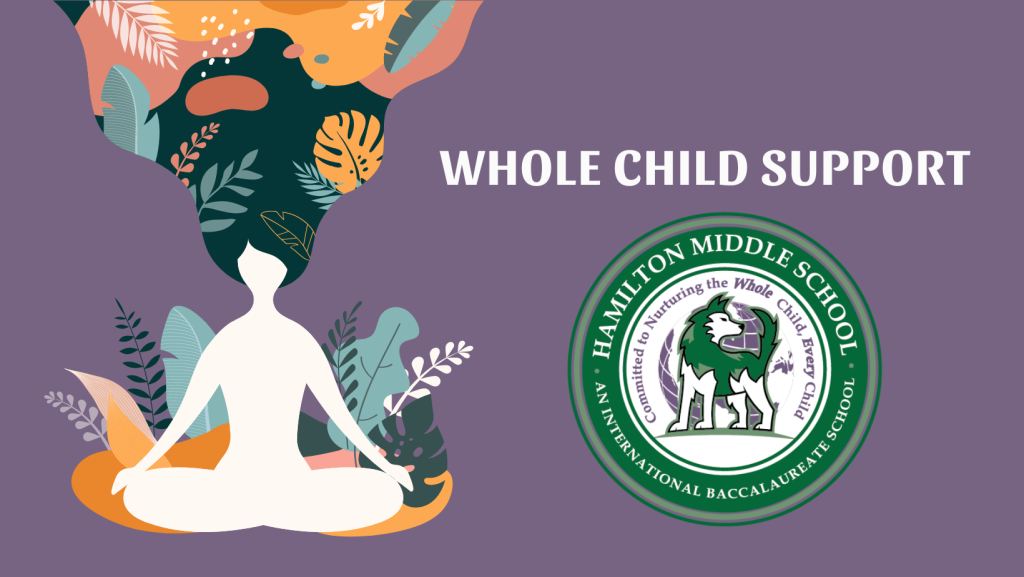 School Counseling Support
School Counseling Department Mission Statement
Our mission as professional school counselors at Hamilton is to provide a comprehensive, equitable, developmental, data-driven program which endeavors to support and advocate for each student in reaching their personal level of excellence in academic skills, post-secondary awareness, and personal/social well-being.
As advocates, we commit to lead the way with our communication and actions towards the Black Excellence Resolution. We encourage students to gain new perspectives as they learn from the rich cultural diversity experienced at Hamilton. We believe collaboration with school, family, and community is essential to best equip our students with the necessary tools to reach their potential and to thrive in our global community.
We care for the students of Hamilton so that they can learn to care for themselves.
Academic Supports

Attendance
Study Skills
School of Choice support
Individual Academic Planning
5th to 6th transition
8th to 9th transition
Effective Learning Skills
College and Career Supports

Individualized Career and Academic Plans (ICAP) lessons with all students
High School Visits
High School Options Night
College Visits
College and Career planning and goal setting

Spark Industry Introduction

Middle school students learn about careers in science, technology, engineering and math through fun, hands-on activities.

Spark Industry Introduction is an opportunity for students in middle-school grades, 6-8, to visit professional workplaces and engage in fun projects while learning about different career options. Spark aspires to motivate students to pursue high-demand, high-wage careers they may never have considered prior to participating.

A particular focus in STEAM (science, technology, engineering, art + design and math) industries can give students a head-start on their career identity development. Spark workplace visits typically last between two and three hours and feature lively speakers and hands-on and critical-thinking activities to inspire students. Read more
Personal and Social Support

One-on-one counseling
Small groups (specialized topics)
New student welcome team
Referrals to community services
Individual Career and Action Plan (ICAP)

Each quarter the school counselors visit classrooms to talk with students about their Individual Career & Action Plan (ICAP). ICAP is a multi-year process that intentionally guides students and families in the exploration of career, academic, and postsecondary opportunities. Students develop the awareness, knowledge, attitudes, and skills to create their own meaningful and powerful pathways to be career and or college-ready.

Lessons have been created specifically for each grade level and differ in their content. If you are interested in learning more about a presentation we encourage you to connect with us and we will be happy to answer any questions.
Anonymously report anything that concerns or threatens you, your friends, your family, or your community with Safe2Tell Colorado.
Social Work & Psychology Supports
Overview

School Social Workers and School Psychologists are uniquely qualified members of school teams who provide direct educational, behavioral, and mental health services for children and youth, as well as work with families, school administrators, educators, and other professionals to create supportive learning and social environments for all students. School Social Workers and School Psychologists have expertise and training in mental health, learning and behavior.

Priority Areas Include:

Provide culturally responsive special education services
Provide evidence -based, culturally responsive interventions
Ensure student and staff safety with best practice in suicide risk reviews, threat appraisals, suicide prevention programs, and crisis response.
Vision & Mission

Vision: Success in school, Success in Life

Mission: School Social Workers and School Psychologists work with you to remove barriers to student growth and achievement.

Our Goals:

Equity: Our schools are places where every student is affirmed for who they are while being nurtured to excel.
Instructional Excellence: Our schools are places where every student receives high-quality instruction every day. This means we need to deliver the highest-quality support to our teachers and leaders as they work day in and day out with our students.
Collaborative Teamwork: Our schools are the center of our communities, and we must work hand in hand with our educators, families, and community members. We must build strong teams to help design solutions for our most persistent problems.
Services

Universal Interventions

School-Wide Attendance Interventions
School-Wide Social Emotional/Mental Health Interventions (Signs of Suicide, Safe2Tell, Risky Business)
Positive Behavior Intervention Support (PBIS)
Multi-Tiered Systems of Support (MTSS)
School-Wide Data Analysis
BESS -Behavior and Emotional Screening System
Classroom Management/On-Call Support
Supervision of Scholars
Staff Development and Training- Suicide Prevention, Self-Injury Prevention and Safe2Tell Reporting
School-Wide Family Engagement-HMS Open House, Back to School Night, Parent/Teacher Conferences
School-Wide Crisis Management- Coordinating with District Crisis Team
Olweus Bully Prevention Program
Community Referrals – Clothes to Kids, 211 United Way, Food Baskets, School Supplies, and Transportation Referrals
Afterschool Snack Program

Targeted Interventions

Progress Monitoring of Academic/Behavioral Interventions
Targeted Social Emotional Intervention-Individual work with scholars
Emergency Classroom Interventions
Attendance Interventions/Contracting-Attendance Plans, Parent/Scholar Meetings Tardy Interventions
Sources of Strength Programming
Small Group Counseling-Mindfulness, Zones of Regulation, 2nd Step Program, Brain Wise Program
Home Visits/Family Engagement Support
Coordinate with Outside Agencies-Judi's House (Grief and Loss), Young Men of Purpose, Mental Health Agencies
Conflict Resolution and Restorative Practices

Intensive Interventions

Individual Social-Emotional Interventions
Suicide Risk Reviews
Threat Appraisals
Self-Harming Assessments
Student Safety Plans
Child Abuse Reports/Consult
Functional Behavior Assessments/Behavior Intervention Plan
Social Skill Support for Center-Based programs-Affective Needs Classroom, Multi-Intensive Classroom
Targeted and Individual Assessments for Special Education (BASC-III, EDDT, Vineland, GARS, BRIEF, WISC-V,SSIS-SEL)
Student Intervention Team (SIT)
504 Plans-Provide mental health support and assessments
Attendance Interventions-Court directed interventions
Culturally responsive de-escalation strategies
Supports

Safe2Tell 1-877-542-7273 Anonymously report anything that concerns or threatens you, your friends, your family, or your community 24/7. https://safe2tell.org/

Talk to Someone Now 1-800-273-8255 If you are thinking about suicide, are worried about a friend or loved one, or would like emotional support, the Lifeline network is available 24/7. https://suicidepreventionlifeline.org/talk-to-someone-now/

Colorado Crisis Services 1-844-493-8255 Whatever you are going through, Colorado Crisis Services can help get you the support you need and is available 27/7. https://coloradocrisisservices.org/

2-1-1 Colorado can connect you to critical resources simply by dialing a three-digit number. Whether you are searching for shelter availability, childcare, or rent payment assistance– 2-1-1 can connect you to available resources in your community. 2-1-1 is a confidential and multilingual service connecting people to vital resources across the state. https://www.211colorado.org/

Call 1-844-CO-4-Kids (1-844-264-5437) to report child abuse or neglect. https://www.co4kids.org/

For Suicide and Crisis Lifeline dial 988
May 24, 2023
WE GOT THIS! On Wednesday the City and County of Denver hosted the We Got This seminar for our 8th grade students. The day consisted of school-based seminars — by youth, for youth — which included informational break-out sessions, music,…Continue Reading
May 19, 2023
June 2nd: Summer Safety & Violence Prevention On the last day of school, we will launch a video opening FACE University's new content section- Climate and Safety. This video will feature DPS staff on the topic of keeping summer fun…Continue Reading
May 3, 2023
FREE opportunity for any student with a disability to experience softball this summer (June 28). Beautiful Lives Project is a nonprofit organization helping people with disabilities to live their dreams through sports and other programs across the country. Learn more…Continue Reading
Crisis Information
If you or somebody you know is having a Mental Health Crisis or there is a concern for student safety, please contact 911 or go to the Emergency Room
Colorado Crisis Number
(1-844-492-8255)
Safe2Tell
(1-877-542-7233)
Suicide Hotline
(1-800-273-TALK)
Colorado Child Abuse and Neglect Hotline
1-844-CO-4-KIDS
(1-844-264-5437)

Non-emergency number for DPD
720-913-2000