Hamilton Student Council (StuCO)
Program Sponsors
Kris Sheikhan
kristina_sheikhan@dpsk12.net
Danette Slater
danette_slater@dpsk12.net
WELCOME
Hamilton's Student Council members are a group of students who are elected
by their teachers and peers to address campus issues or concerns. Members of
the student council organize events and activities that benefit students, staff, and
their local community.
Our Student Council will demonstrate an understanding of
Hamilton Middle Schools' IB traits by:
acquiring PRINCIPLED leadership skills when providing support to the school
practicing COMMUNICATION skills when working with peers, CSC, and PTSA
to solve problems and inform the campus of upcoming activities
developing CARING practices by giving back to our community with several
community outreach programs each year
portraying BALANCED ideas with managing ongoing fundraisers
WHAT WILL WE DO THIS YEAR?
Volunteer during Fall Festival
Support Clothes To Kids
Visit a local nursing home
Manage Valentine's Day Fundraiser
Host Book Drive for Holm
Provide School Tours for
prospective families
Assist with Pi Day
Manage Consignment Fundraiser
Student Council Lock-In Celebration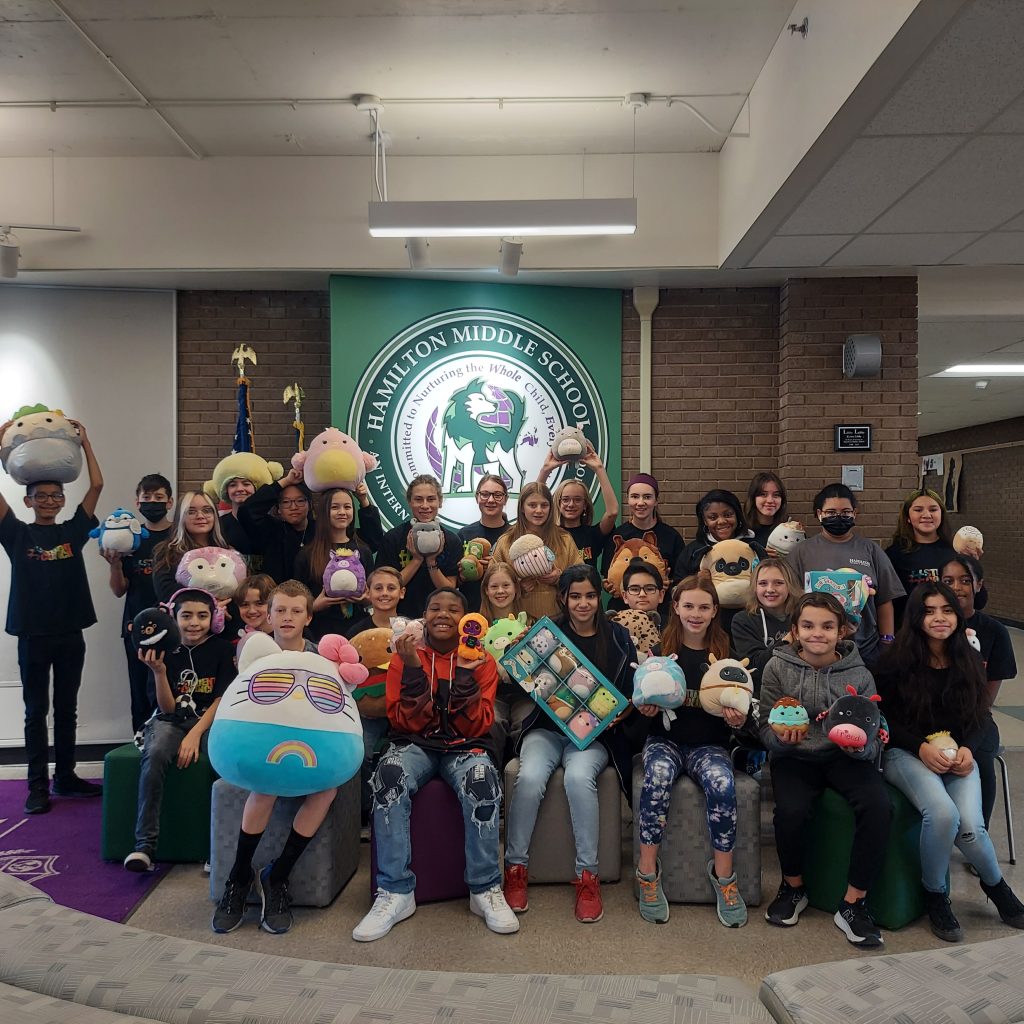 STUDENT EXPECTATIONS
Students will work cohesively with other members of the student council and the sponsors to organize events for the school and community. Students will demonstrate a service-oriented, positive attitude within the classroom and within the community. Students will attend all student council meetings and required events. Excessive tardies or absences will result in a re-evaluation of the student's participation in the program. Students will maintain clear communication with student council officers and sponsors throughout the school year. Student Council President must attend all PTSA meetings, while the Vice
President must attend all CSC meetings. Click here to download the Hamilton Middle School Student Council Flyer.
MEETINGS
When:
Friday mornings
8:15- 9:00
2023-2024 OFFICERS
STUDENT COUNCIL MEMBERS:
Ghina Abo-Kharoub, Everleigh Adams, Meluck Almutakassi Mia Ayala-Duclerc, Nigel Bandy, Curiay Banks Harper, Sean Benedict-Bickford, Jeremy Boakye,Shukrona Bobojonova, Kayla Braman, Demitri Brown, Madeline Chufong-Sprague, Jayden Crawford, Ezequiel Duran, Terri Egner, Alexa Floore, Anthony Gonzalez-Angulo, Atticus Lard, Champ McEvlaine, Mollie Moreno, Kaan Yilmaz, Jakob Wros, Keira Wilson, Lily Wieser, Beatrix Weigel, Addison Weber, Kinsley Washburn, Cameron Troxell, Jade Smit, Crystal Saavedra-Guevar, Emmet Rivera, Izyria Phillips, Chance Phillips, Nadhiya Owens, Lisseth Orta-Reyes.
StuCo News