Student Corner
Below you will find useful dropdown tabs with important school information.
School Hours

School hours are 9:05 am- 4:05 pm
School starts at 9:05 and doors open at 9:00
Breakfast is served between 8:20 and 8:45
No Early Pick-up After 3:45pm
Bell Schedule

| | | | | | |
| --- | --- | --- | --- | --- | --- |
| Periods | | Times | 6th Grade | 7th Grade | 8th Grade |
| 1 | Class | 9:05 – 10:05 | Unified Arts 1 | Core 1 | Core1 |
| 2 | Class | 10:10 – 11:05 | Core 1 | Core2 | Unified Arts 1 |
| 3/4 | Advisory/LunchOR Class | 11:10 – 12:05 | Core 2 | 11:10-11:30 Adv11:35 – 12:05 Lun | Core2 |
| 5/6 | Advisory/LunchOR Class | 12:10 – 1:05 | 12:10-12:30 Adv12:35 – 1:05 Lun | Unified Arts 1 | Core 3 |
| 7/8 | Advisory/LunchOR Class | 1:10 – 2:05 | Unified Arts 2 | Core 3 | 1:10 – 1:30 Adv1:30 – 2:05 Lun |
| 9 | Class | 2:10 – 3:05 | Core 3 | Core 4 | Unified Arts 2 |
| 10 | Class | 3:10 – 4:05 | Core 4 | Unified Arts 2 | Core 4 |
School Supply List

Your student's teachers may have additional recommendations for supplies specific to their content.

Water bottle
School-issued computer/Chromebook and charger (Please have devices charged prior to arriving at school)
Pencil pouch
12 pre-sharpened pencils
Eraser and graphite refills, as needed
Personal pencil sharpener
1 box of colored pencils or 1 box of markers
1 pack of blue or black pens
a 4 pack of assorted highlighters (pink, yellow, green, and blue)
4 dry erase markers
3 spiral notebooks (if computer/Chromebook is not available or not working)
1 box of tissues (for community donation)
1 pack of notecards (for community donation)
1 pack of Lysol wipes (for community donation)
Keep 2 extra masks in your backpack
White t-shirt and black shorts, leggings, or sweatpants (for PE)
Before and After School Activities/School Sports

We are very excited to announce that Hamilton Middle will have before and after school activities. We have wonderful partnerships and can't wait to start. Here is a quick reference of what will be offered. For more information about school sports, please visit our Athletics page here.

Join Denver Children's Choir Before School
School Clubs
HMS Student Council

Student Council 2022-2023

Congratulations to our new Student Council Committee.

Student Council Members:

Addison Weber
Antuu Dhaba
Beatrix Weigel
Jakob Wros
Kayla Braman
Keira Wilson
Madeline Chufong-Sprague
Madison Bailey
Meluck Almutkassi
Nigel Bandy
Yutong Huang
Ariam Cox

Brooklyn Dent
Diego Pina-Arias
Jack Baker
Meah Freisinger
Mia Pratt
Omar Hussaini
Ra'Mya Morris
Sebastian Garcia
Tatym Bunte
Veronica Ryan
Tech Support

Students use the Chromebooks assigned to them every day in class and we need your partnership. It is the student's responsibility to charge their Chromebook each night and to take good care of the device. When a student loses their Chromebook, a 280 dollars replacement fee will be added to their account. The fee will need to be paid by the family before a new device is checked out to the student. Please contact our tech partner at jean_barcelo-cabeza@dpsk12.net if you have questions about devices.
Whole Child Website for Students
HMS School Calendar

Click here to be directed to our live calendar.
Sports at Hamilton

Early Fall (Aug.- Mid Oct.)

Cross Country
Boys Soccer
Softball
Boys Volleyball

Late Fall (Early Oct.-Mid Nov.)

Flag Football
Volleyball
6th Grade Volleyball

Winter Sports (Mid Nov.-Mid Feb.)

Girls Basketball
Boys Basketball

Late Winter (Late Jan.- Mid March)

CoEd Floor Hockey
Girls Flag Football

Spring Sports (Mid March- Early May)

Girls Soccer
Baseball
6th Grade Girls Basketball
6th Grade Boys Basketball

For more information on sports visit the Athletics page.
8th Grade Continuation Requirements
Student Council
Student Council members will meet in room 219 every Friday from 8:15 am -8:45 am.
Check Digital Deets for updates on events and meetings.
Want to Be on Student Council?
Teachers can recommend a student or students can complete the application on their own. The link for the application can be found on posters in the hall and will also be available for teachers to post on Schoology for students.
Requirements: Recommended students must be passing ALL classes with either an A, B, or C. They must have 85% attendance or higher. Students must also commit to meeting every Friday morning from 8:15-9.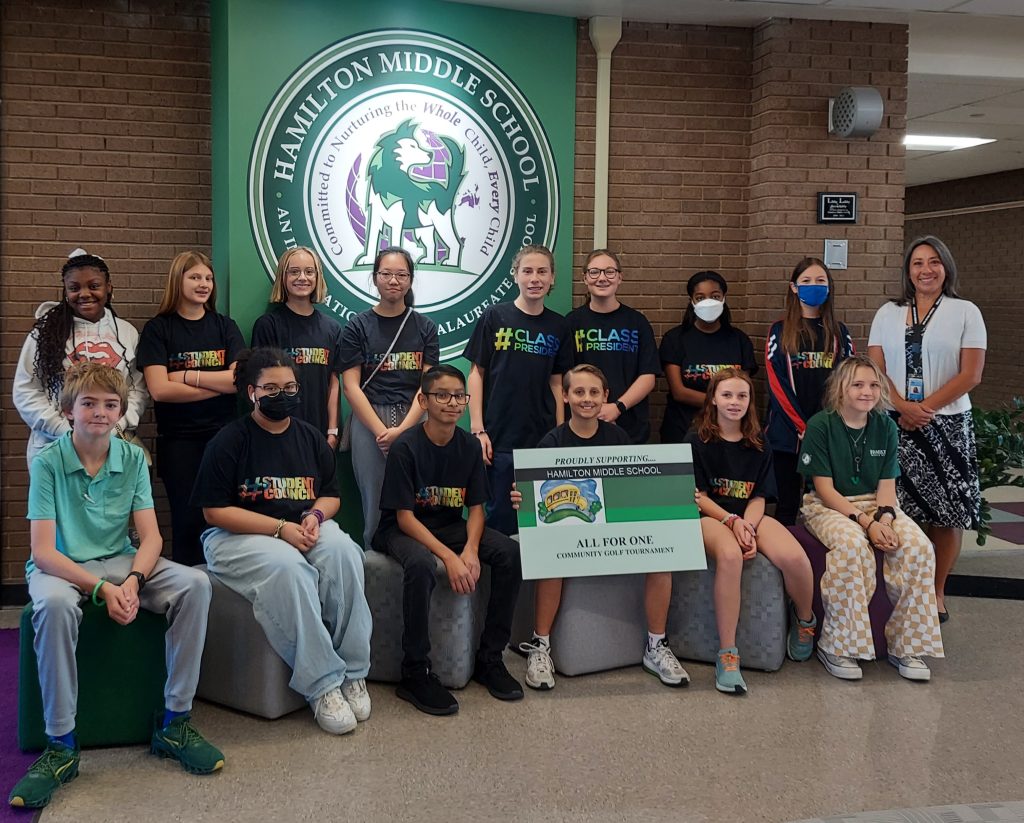 ---
Student Council had a Squishmallow Drive and ended up collecting 41 squishmallows to donate to the Third Way Center for Christmas gifts! We're very proud of them.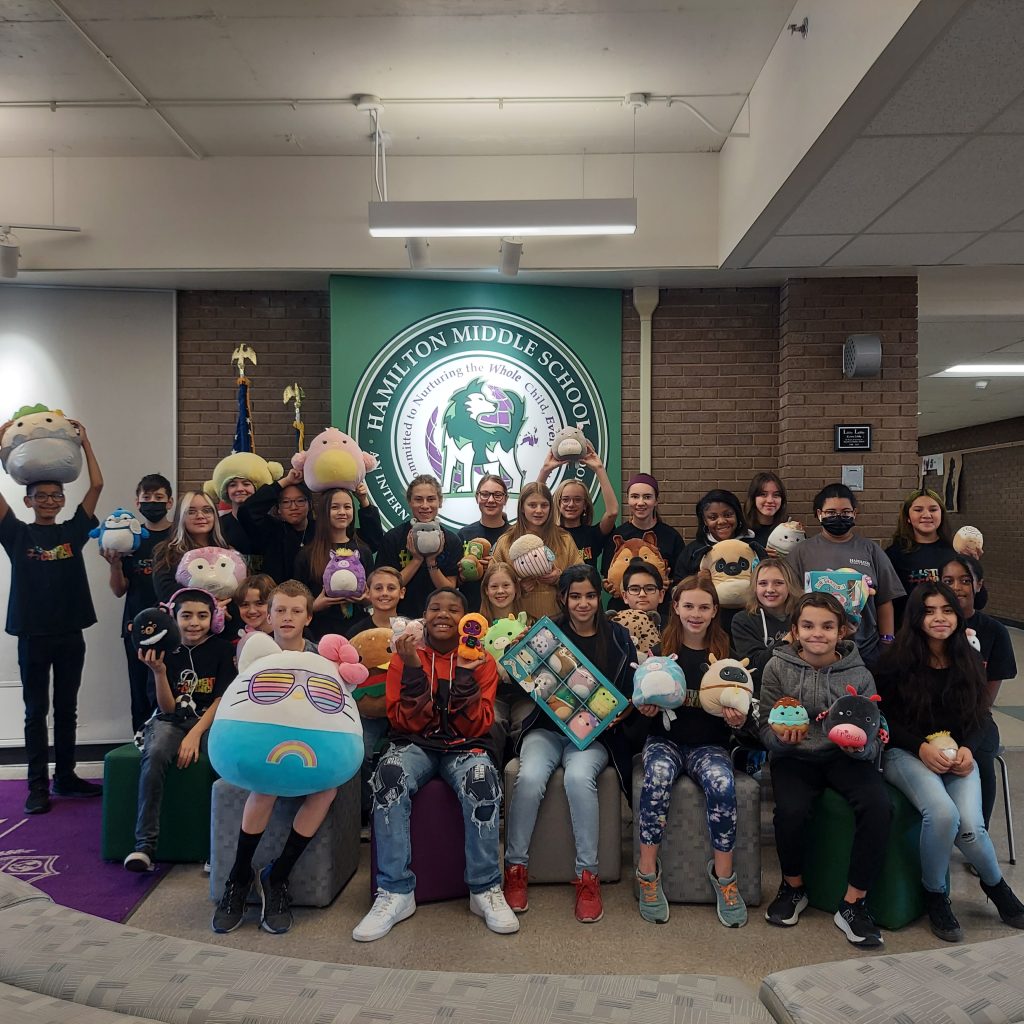 ---
Student News
May 25, 2023
Dear Parents/Guardians, We are fast approaching the end of the school year! In order to get organized for the upcoming school year, DPS Nursing and Student Health Services has a few items for you to review: If your child had…Continue Reading
May 25, 2023
June 2nd: Summer Safety & Violence Prevention On the last day of school, we will launch a video opening FACE University's new content section- Climate and Safety. This video will feature DPS staff on the topic of keeping summer fun…Continue Reading
May 24, 2023
Hamilton has been awarded the 2023 instrument award from Bringing Music To Life which will be presented on Saturday, August 12th at 2 p.m. in Hamilton Hall of the Newman Center for the Performing Arts. List of Instruments: 2 Alto…Continue Reading